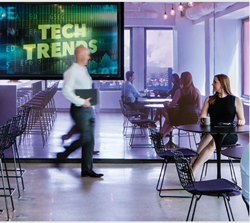 Posted on June 19, 2018
Years ago, the key to attracting and retaining a talented workforce was to relax the rules a bit: Casual Fridays, flexible work hours and teleworking were the employee perks du jour.
Now, the competition for top talent is driven by the demand for amenities of the less tangible type. The highly specialized labor force seeks a "more interactive, collaborative and socially vibrant office environment," with "amenities that enliven the workplace and create the elusive concept of community," according to NAIOP Research Foundation report, Activating Office Building Common Spaces for Competitive Advantage.